Medical Industry Manufacturing
Located in Lake Mills, Wisconsin, Chapter 2, Inc. has been providing a wide range of manufacturing services to our customers for nearly 50 years. We are a full-service contract manufacturer with extensive experience in medical machining. Our capabilities include CNC machining, robotic machining, component assemblies, fabrication and welding, tool and die services, and paint shop services. As an ISO 9001 Certified manufacturer we are dedicated to maintaining state-of-the-art facilities, training the highest caliber specialists, and working closely with our clients to ensure we meet the unique needs of every project.
Medical Device Component Manufacturing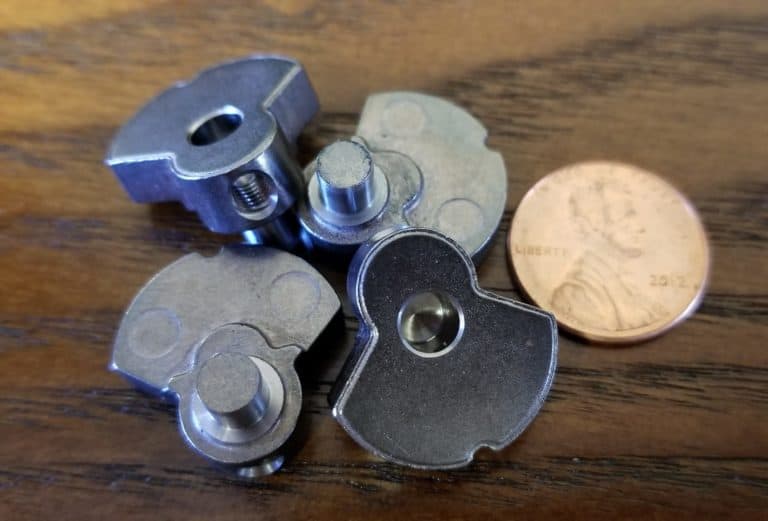 Manufacturing components for medical devices has numerous unique challenges, as these precision parts are often minuscule and require very tight tolerances. Medical devices need to be durable and reliable, meaning that manufacturers must design and machine each component to meet the most stringent specifications and guidelines. In addition to the need for highly precise parts, medical device component manufacturing is challenging due to the specialized materials often required for these devices, many of which must be capable of withstanding harsh environments. 
To meet these challenges, we offer a variety of manufacturing capabilities, including:
CNC Machining
Our facilities feature a wide variety of high-end CNC machinery, including turning lathes, broach equipment, and horizontal machining centers. We personalize our CNC services to meet the unique needs of each client, and we are experienced working with materials ranging from stainless steel to plastic.
Contract Assembly Services
Looking to streamline production, simplify your supply chain and get assistance in controlling costs?  We offer contract assembly and sub-assembly services to go along with our component manufacturing capabilities to help our customer base manage its product lines in a more effective manner.  
Quality Management System and Control
With our climate-controlled facility and state of the art quality lab and equipment you can rest assured that Chapter 2 is the right source for your high-quality medical component needs.
Painting
At our 14,000 square-foot wet painting facility, our capabilities include pre-finishing, priming, coating and post finishing products in a wide range of sizes, materials and finishes.
World Class Supply Chain
Constantly dealing with supplier headaches due to medical components with a complex supply-chain? Let Chapter 2 manage your component or assembly. We have an extensive network of world class suppliers of materials and secondary services to help offer a turnkey solution for your medical device needs.  From raw materials, castings, sintered metal, plastic injected components, anodizing and sterilizing services if Chapter 2 doesn't do it under its own roof we are partnered with someone who can
Types of Medical Device Components
Our range of capabilities enables us to manufacture a variety of different components for our clients in the medical industry. Our offerings include:
Treadmill Components

Oxygen Therapy Components

Lab System Components

Mechanical Drive Components

Testing Equipment Components

Sensor Housings

Brackets and Mounting Plates

Lids and Covers

Bodies and Bases
Metals and Plastics We Manufacture With
Depending on the type of component and desired application, different materials provide their own unique benefits. To manufacture the custom design that will best suit the application of each of our clients, we work with many types of materials, both metal and plastic. 
The metals we work with include:
Alloys

Aluminum

Brass

Copper

Stainless Steel

Precision Steel

Titanium

Special Alloys
We are also experienced working with a variety of plastics, including:
Acetal

Delrin

Nylon

PEEK

PTFE

PVC

Ultem

UHMW
Partner with Chapter 2, Inc.
For nearly 50 years, we at Chapter 2, Inc. have been perfecting our craft, working closely with our clients to create custom components at the tight tolerances required for medical devices. We are dedicated to providing parts that are durable, reliable, and precise, and we offer a range of value-added services to meet the needs of our customers in the medical industry. To learn more about our machining capabilities in this field, or to work with us on your next project, contact us today.